Christian Education Week will be celebrated at WCS
April 26-May 2nd.
Saturday, April 26th
Our Senior Choir will singing the opening anthems at the Rogers Center for Woodstock Day. The Toronto Blue Jays will be playing against the Boston Red Sox! Ticket sales are now closed, but we have over 60 people representing our school at the game! We are so excited to be given this opportunity!
Monday, April 28

At 8:30am we will be hosting a Volunteer Appreciation Assembly. Everyone is invited to attend. We plan on it being a time to thank our volunteers who help make this school run smoothly and worship with the LDCSS praise team! Please join us for coffee & cake following the presentation!
Tuesday, April 29
This is a day we set aside to notice our Bus Drivers! Small tokens, thank you cards or an extra smile go a long way! Take the day to notice and appreciate your bus driver!
Wednesday, April 30
Our Welcome Wednesday continues with a twist! An Art Walk Open House. Family, friends or anyone interested in WCS is welcome to tour through the hallways. The walls will be displaying various masterpieces from our budding artists. Coffee is on and we are ready for guests!
All parents are invited to bring along a picnic lunch and sit with their children. This year we will not be providing any food or drinks for purchase from the school so please pack anything you may need! Recess starts at 1:15pm. We will eat outside, unless the weather does not cooperate.
Friday, May 2
We welcome our Grand Friends to visit the school starting at 11am. 11:30 am we begin a coffee social & announcements in the auditorium. We are changing a few things with the luncheon this year because of the space we need for the school musical "Roamin' through Romans". Lunch will be served "buffet style" in the lobby. Some tables will be set up in the auditorium if that is more convenient for our Grand Friends, but they are also welcome to eat in classrooms with the students! At 2pm we will treat our Grand Friends to the musical. Due to limited seating this showing is only for our guests! Grand Friends do not need to request advanced tickets.
Roamin' Through Romans information: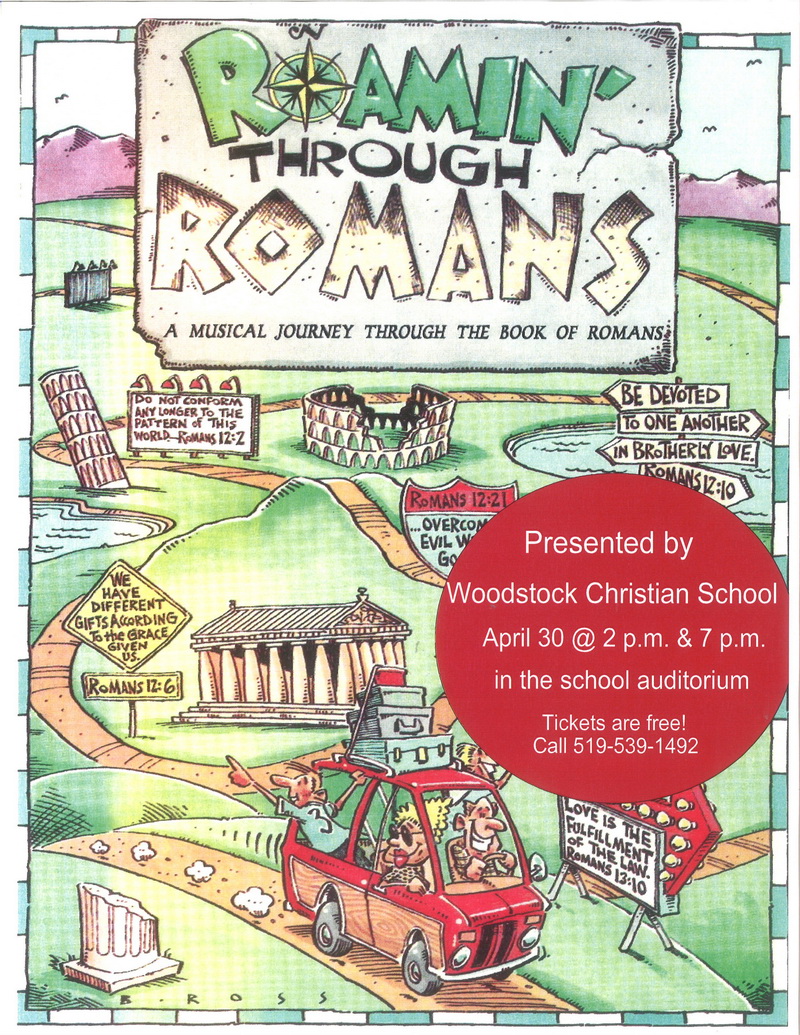 For your FREE tickets, call the office at 519 539 1492 or email office@woodstockchristian.ca! Tickets are required for everyone attending the musical (except Grand Friends on Friday, May 2nd)