December 2018
Monday, December 17, 2018
Christmas time for a musician is the busiest time of the year. Concerts, rehearsals, more singing and more playing from November 1st to December 25th. You get the picture. Sometimes it is easy to get so busy "giving" musically to your community that you lose perspective of what a gift community really is. This December I have had a big STOP put on my musical busyness. Instead of being the giver gifts to our community, I and my family have been given many gifts. Our community has given us help, time, talks, hugs, flowers, food, prayer...lots of prayer. What a wonderful display of God's gift to us! As we all take a break from school to celebrate Jesus' birth, I pray you will be givers and receivers of God's gift of community as well. John and I say "Thank You!" from the bottom of our hearts. Merry Christmas!
Elizabeth Martin
Monday, December 10, 2018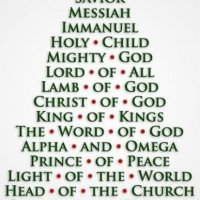 A Christmas Tree Blessing
"Sing to the LORD a new song; sing to the LORD, all the earth. Sing to the LORD, praise his name; proclaim his salvation day after day. (Psalm 96). "
"'This is what the Sovereign LORD says: I myself will take a shoot from the very top of a cedar and plant it; I will break off a tender sprig from its topmost shoots and plant it on a high and lofty mountain. On the mountain heights of Israel I will plant it; it will produce branches and bear fruit and become a splendid cedar. Birds of every kind will nest in it; they will find shelter in the shade of its branches. All the trees of the forest will know that I the LORD bring down the tall tree and make the low tree grow tall. I dry up the green tree and make the dry tree flourish. " 'I the LORD have spoken, and I will do it.'" - Ezekiel 17:22-24
Declare his glory among the nations, his marvelous deeds among all peoples. For great is the LORD and most worthy of praise; he is to be feared above all gods. (Psalm 96).
Source: crosswalk.com
Monday, December 03, 2018
Our world is smaller than it has ever been, in the context of seeing different cultures and hearing different languages. I have the privilege of teaching language at WCS, in both French and English. Throughout the year in my classes we are able to study both the language and the culture of different communities in France, Quebec, Ontario and Korea. It is sometimes the most interesting for students to see how communities who live very far away and speak a totally different language, still can have so many similarities to us.
While looking at language learning as a whole, I realize that there a lot more to language than just speech. One can understand what a person is saying through their facial expressions, by seeing their hand gestures, their communication with drawings, pictures and writing. There is even communication through humming familiar songs. By one way or another, bridges can be built to allow communication to happen. It is not always or often perfect, but sometimes the mistakes allow for the best learning and connection to occur.
It is so incredible that people from different places and cultures in the world, who have different walks of life and speak a totally different language can also love and serve the same Lord. The Christmas message that we will be focussing on in our churches this month and at WCS this week; the message that the angels brought to the shepherds outside Bethlehem many years ago, is the same message for believers in all languages and in all parts of the world. "Today in the town of David a Savior has been born to you; he is the Messiah, the Lord." "C'est qu'aujourd'hui, dans la ville de David, il vous est né un Sauveur, qui est le Christ, le Seigneur."
Our Saviour Jesus Christ has come and we wait in hope for when He will come again. This is a message worth communicating in whatever language you experience and can share.
R. Sikma