June 2020
Monday, June 15, 2020
The communal graduation verse that the students chose to direct and focus their celebration comes from Romans 15 verse 13. What a great choice, given our current situation. It is a prayer and a blessing and so very relevant and meaningful in this unsettled time: May the God of hope fill you with all joy and peace as you trust in him, so that you may overflow with hope by the power of the Holy Spirit. Congratulations, WCS Class of 2020! Let's hold onto the hope and joy and peace that only God provides.
We have known some of our grade eight students for 10 years, and some for just a short time. Staff and students at WCS have been blessed by our bold, creative, athletic, sincere, godly, caring and awesome (and more!) grads. We will miss you, but we also know it's time for you to move on to new challenges. Know that God continues to provide grace and love in abundance. He will continue to guide and bless you. Farewell & God bless you, Abi, Aiden, Aliyah, Alyssa, Brett, Cora, Elena, Erin, Hendrik, Ken, Lauryn, Mackenzie, Miranda, Ryan and Tony.
- Carol Verbeek, Principal
Monday, June 08, 2020
It seems this has been an ongoing theme over the past weeks and months. Everything we are doing, it seems is from a distance. As we enter the month of June, I know for the students in grade 8, our minds go to graduation and the end of elementary school celebrations and events. We at Woodstock Christian School are excited about our Class of 2020 Graduation Celebration plans and of course we are also very proud of our graduates. Over the past little while, I have been thinking about my elementary school graduation and trying to recall my experience as a graduate. As distant in my memory as it may be, around 30 years ago, there are a few details that still stand out for me. It took place in the gymnasium at Pineview Public School, in Athens, Ontario. The ceremony took place in the afternoon, the gymnasium was packed full of people and I wore a silver suit, with pleated pants and had a 'mullet' haircut. I do not remember any specifics of the ceremony, I do not remember who the valedictorian was, but I do remember they shared with us a song that still comes to mind often. I believe we also sang this song together as a graduating class choir. The song was called 'From A Distance' by Bette Midler, I encourage you to take some time to listen to this song on Youtube or Spotify. It speaks about how our world looks 'from a distance'. Even today, in the midst of this pandemic it raises some questions for me about the state of our world and if things have really changed all that much over the past 30 years. The one line that stands out for me in this song has always been "God is watching us, God is watching us, God is watching us...from a distance." I have always had a hard time with this one line in the song, because I believe God is always right here with us, living our lives right alongside us. This concept of God being present in my life has often been an encouragement to me, but especially now as we continue to navigate through this pandemic together. Though it may seem like God is far from us at times, it is comforting to know that He is right here with us, our God will not abandon us. Even in this time of living life 'from a distance', God is still with us. His word is full of examples of His faithfulness and we need to hold onto His promises. It is my prayer that we can all take comfort in the fact that God is with us even though it may seem like it is at times...from a distance, even through this uncertain time.
Tony Schaafsma
Monday, June 01, 2020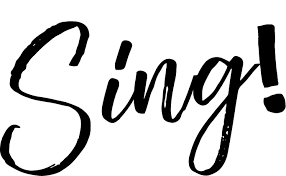 In Colossians 3:16 Paul tells us that we are to "let the word of Christ dwell in you richly, teaching and admonishing one another in all wisdom, singing psalms and hymns and spiritual songs with thankfulness in your hearts to God." Did you know that the Bible contains over four hundred references to singing and fifty direct commands to sing? And the longest book of the Bible, the Psalms, is a book of songs?
Why does God so often tell us not simply to praise him but to sing his praises when we meet? One reason is that God himself sings. In Zephaniah 3:17 God exalts over his people "with loud singing."
Music helps us remember words. Ever notice how easy it is to recall hymns you sang growing up — or a TV jingle from your past, nursery rhymes, Christmas carols, or pop songs that you learned as a teenager? Do you ever find yourself singing along to a song you haven't heard for twenty years? You can see the power of music in Alzheimer's patients who can't tell you the name of their spouse or children, but can instantly sing songs they learned as a child.
Along with helping us remember words, singing also connects the words we sing with our hearts. In every culture and age, music is a language of emotion. It expresses, arouses, and speaks to our feelings. Music is capable of moving us in subtle and profound ways — in anticipated and unexpected ways — with or without words. For instance, singing, rather than reciting, the words to "Amazing Grace" enables us to stretch out and think more carefully about what we're singing. Music is meant to affect us. Singing is also a way in which to demonstrate and express our unity.
God wants to use music, and has even designed music, to break through our worry, apathy or hardness of heart, to sing praise or lament, and to help us engage emotionally with his Word. Sing with thankfulness. Sing to remember the goodness of God.
Carol Verbeek
(adapted from Words of Wonder: What Happens When We Sing? )