September 2020
Wednesday, September 23, 2020
As I reflect on the first week of school, I'm amazed at how flexible and adaptable kids are! In order to help prevent the spread of Covid-19 there are of course many new routines and rules in place this year. From my perspective (in the Gr. 5 classroom), students have handled it extremely well. I'm sure some of it has to do with how you, the parents, have instilled confidence in your child (thank you!), and how teachers are trying to make this as much of a positive or normalized experience as possible - but still - I'm impressed with how students have adapted to our "new normal", so quickly. Another thought that keeps resurfacing in my mind is: the importance of putting our complaints into perspective. A month or so after March Break, I had a conversation with my grandfather about Covid-19. I asked him how he was doing, and if he was staying busy. He replied: "Yes, I've been reading a lot, keeping up with the news, working on projects around the house, etc." He was quite chipper. The conversation evolved, and we both began stating what we were missing out on due to all the shut-downs, and isolation. There was a pause, and then he quickly brought it all back into perspective by mentioning that "yes it's a tough time, but not nearly as bad as the millions of people living in war zones and concentration camps with no shelter or even food." I wasn't expecting that. I was a bit stunned. Partly because the conversation took a sharp turn, but also because there was so much truth to it. I have had conversations like this before, but it had been awhile. This one stuck with me - perhaps because of who said it, and how it was said. I was reminded of what I do have, and that is: a massive amount compared to many. Over the course of these pandemic months, I have been grateful for the conversation I had with my grandfather, as well as last year's school theme, "Overflowing with Thankfulness (from Colossians 2) because it keeps me grounded, it makes me think about others, it steers me away from negativity and ungratefulness. Furthermore, and more so than ever before in my teaching career, I'm grateful for the adaptability/flexibility inherent in kids! I pray that as a school community, we'll be thankful, flexible, and adaptable, all the while keeping things in perspective, as we navigate these 'uncharted waters'.
Axel Hiemstra- Gr. 5 Teacher
Monday, September 21, 2020
Woodstock Christian School has come alive with the students and staff back in this place! Each morning, buses pull into the parking area and I get to greet and welcome students back to school for the day. As they walk and run through the gate into the school playground, Mrs Bulthuis is there to greet them, ready to listen to any exciting news and to pass students along to classroom teachers who are waiting in the halls and at classroom doors to greet them. This is actually one of the highlights of my day, seeing the students' smiles (behind their masks, but still, their eyes are smiling) eager and ready for school and being with their classmates. Parents, we miss seeing you, and want you to know that when you entrust your children to us, they are in good hands. There is joy in this place! Classrooms buzz with student conversations, morning circles and devotions are taking place, with students sharing news, concerns, reasons for praise, and praying together. There is so much learning happening! Outdoors, students are making extremely good use of the playground - now divided into six zones to provide everyone access to age-appropriate activity areas. Did you catch last week's Facebook post? Students are happy to be back at school, so they can learn, be with friends, get better at math, art, science, be with teachers and be busy together. The words of I Chronicles 16: 25, 27 are reassuring: For great is the Lord and most worthy of praise... the Lord made the heavens. Splendour and majesty are before him; strength and joy are in his dwelling place. In the face of uncertainty, the strangeness of new normals, anxieties about health and wellbeing, God is constant - he provides strength and joy.
Carol Verbeek, Principal
Tuesday, September 08, 2020
STAND FIRM through 2020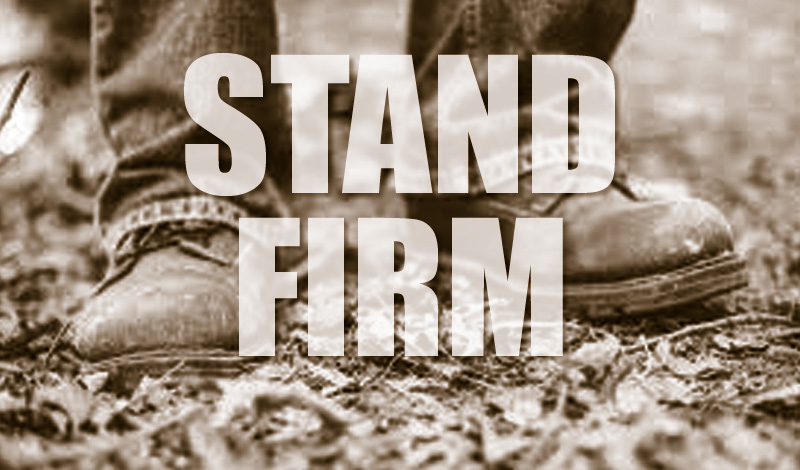 It's a brand new year and it's our 61st year of Christian education in Oxford County! Welcome back to school families, students, and staff. It is so good to be together after 180 days away from the building! A special welcome to our new students! This morning we were able to live stream from the gym to the classrooms for the first time for a back-to-school greeting and message. We are happy to have your support and share your excitement for another school year. Despite the extra health and safety requirements, and changes in schedules, we are having a solid first day. Students, we hope you will soon feel 'at home' in your classrooms. We praise God for a new year and new beginnings! I am excited to explore our new theme: STAND FIRM. Stay tuned for future chapels and editorials exploring how we can live for God and stand strong as believers in Jesus. Blessings for the new school year.
Carol Verbeek