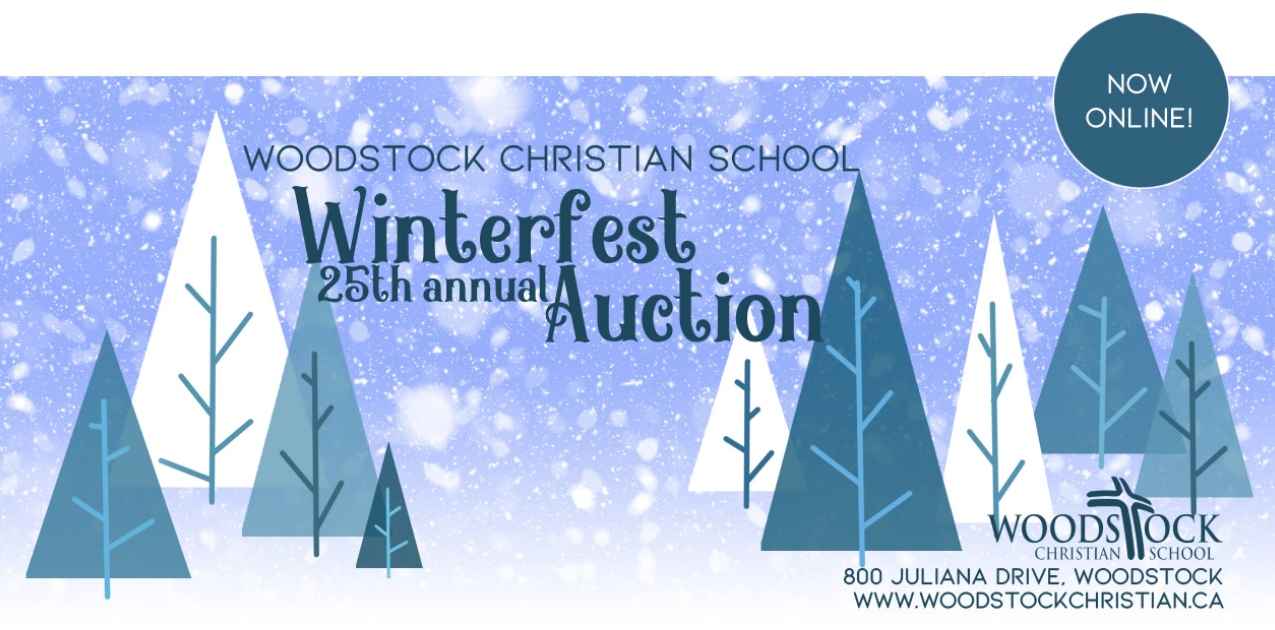 The countdown is on to our 25th annual Winterfest Auction November 16-19, 2020!
While 2020 has brought a lot of uncertainty, we know that we need to adapt to the
changes facing our classrooms. Now, more than ever, our community needs us. And we
need you. We would greatly appreciate your support by participating in our very first online auction.

While it will look a bit different this year, we know you will still find some great items
provided by our generous sponsors and donors. You can bid on your favourite items
from the comfort of your living room! The bidding starts at noon on Monday, November 16th and closes at 9pm on Thursday, November 19th.

Take a moment now and register for our online Winterfest auction.
www.charityauction.bid/WCSWinterfest2020 You'll be able to peruse the items in the
catalog as they are added and decide what you'd like to bid on when the auction starts!

For 25 years, businesses and individuals have donated their goods or services to the
Woodstock Christian School Winterfest Auction. This fundraising event has always been
a highlight for the school, the families, and the community. It has raised significant funds
over the years which assist in keeping tuition affordable for the parents who seek a
school where they know their children receive a high-quality Christ-centred education.
We have been blessed with a wonderfully supportive community including all those who
make donations, volunteer their time, and those who come out on the night of the
auction for an exciting evening of fun and fellowship!

If you are a business and would like to make a donation, please contact the school
(519-539-1492) and we can arrange for your item to be picked up. We would like all
donations in the school office by November 6th to allow time to add to the auction
website. Your decision to support this event will be greatly appreciated by our entire
Christian School family!

Share the link with your family, friends and neighbours so they can support Woodstock
Christian School. Thank you for your support.