Monday, December 10, 2018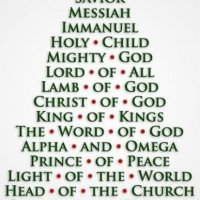 A Christmas Tree Blessing
"Sing to the LORD a new song; sing to the LORD, all the earth. Sing to the LORD, praise his name; proclaim his salvation day after day. (Psalm 96). "
"'This is what the Sovereign LORD says: I myself will take a shoot from the very top of a cedar and plant it; I will break off a tender sprig from its topmost shoots and plant it on a high and lofty mountain. On the mountain heights of Israel I will plant it; it will produce branches and bear fruit and become a splendid cedar. Birds of every kind will nest in it; they will find shelter in the shade of its branches. All the trees of the forest will know that I the LORD bring down the tall tree and make the low tree grow tall. I dry up the green tree and make the dry tree flourish. " 'I the LORD have spoken, and I will do it.'" - Ezekiel 17:22-24
Declare his glory among the nations, his marvelous deeds among all peoples. For great is the LORD and most worthy of praise; he is to be feared above all gods. (Psalm 96).
Source: crosswalk.com